Cannabis is the source of around 80 beneficial compounds. CBD, cannabidiol, is one among them. Although CBD is derived from cannabis, often known as marijuana, it contains a small amount of THC, or tetrahydrocannabinol, which is responsible for intoxication.CBD can aid with inflammation, mood regulation, insomnia, exhaustion, anxiety, and other issues. Its use in hair care products has risen in recent years, owing to its significant benefits in enhancing scalp health and encouraging hair growth.
The market for CBD hair products is booming, with umpteen brands, leaving you befuddled. Don't worry, we'll give you a thorough review of some CBD-based shampoos — including their components, advantages, and everything else you need to know before making an informed decision.
Best CBD Based Shampoos for Healthy Hair
Product
Features
Emera CBD Shampoo
L'anza Wellness CBD Revive Shampoo

Read Full Review
Hempz CBD Herbal Shampoo

170 MG of CBD (8.5 ounces)
490 MG of CBD (24.5 ounces)

R+Co's Super Garden CBD Shampoo
Let's jump on the gun and find the perfect match for your hair. Starting with
1. Emera CBD Shampoo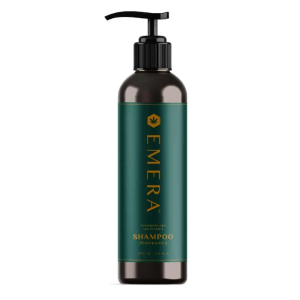 Get 20% Off on Emera CBD Shampoo as a CBD wellness blog reader. Use this code at checkout: GET20OFF



Emera is an organic shampoo that comes in sustainable packaging and it is cruelty-free as well.
Ingredients:
CBD, hempseed, and avocado oils which hydrate the hair and give them a shiny coat.

Chamomile and Green Tea extracts nourish and strengthen the roots. 

Lemongrass extracts aid in protecting colored hair from damage. It also helps in restoring the color for a long period. 
It is a sulfate-free product that ensures gentle scalp cleansing. The antioxidant properties of the ingredients promote healthy blood circulation and fuller, voluminous hair. It is expensive by highly recommended because of its healing properties. 
2. L'anza Wellness CBD Revive Shampoo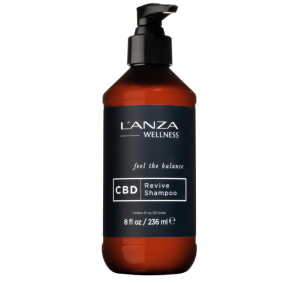 Get 20% Off on L'anza Wellness CBD Revive Shampoo as a CBD wellness blog reader. Use this code at checkout: 20TODAY



A well-crafted product that rejuvenates the scalp and makes the hair look voluminous and healthier.
Ingredients:
Rich with vitamin E to fasten hair growth.

Meadowfoam flower seed oil locks the fiber strength and gives strong hair.

Gugo bark provides color protection.
This shampoo helps to keep the scalp oil-free even after three days of hair wash and leaves a very soothing fragrance. It also helps in controlling dandruff, by keeping the scalp moisturized.
3. Hempz CBD Moisture Hit Ultra-Hydrating Herbal Shampoo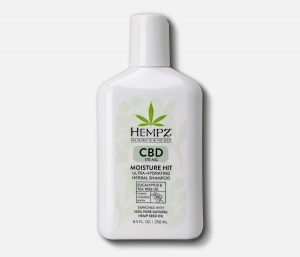 Get 10% Off on Hempz CBD Herbal Shampoo as a CBD wellness blog reader. Use this code at checkout: SAVE10



This moisturizing shampoo has a pleasant minty scent and is ideal for dry scalps.
Ingredients:
Vitamins like A, B, C promote keratin production and build strong hair.

It contains zinc and iron which reverse hair loss and take care of bald spots. 

Amino acids present in CBD oil are responsible for the shine and dandruff-free scalp.

Eucalyptus and tea tree oil to keep the scalp fresh.  
The product comes in a variety of sizes and prices which can suit every pocket. It is a gluten-free and cruelty-free product.
4. R+Co's Super Garden CBD Shampoo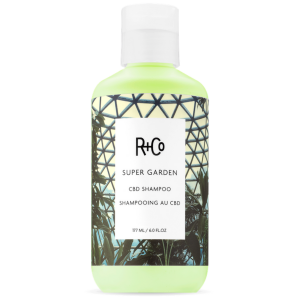 Get 20% Off on R+Co's Super Garden CBD Shampoo as a CBD wellness blog reader. Use this code at checkout: 20CBD



By gently washing away dirt and dead cells, this Hemp-infused CBD shampoo helps to maintain the scalp's vital nutrients.
Ingredients:
Hempseed oil to calm the scalp and release the root tension to stimulate growth.

Lavender and blonde woods scents help to lighten the mood and relax the scalp.

Coconut oil is an antibacterial component and helps in hair growth.

Moringa oil nourishes hair and softens them. It is full of fatty acids which are essential for the scalp.
It is a vegan product free from sulfate and paraben and other petroleum products. 
How to Decide Which Shampoo is Best for you
We understand that finding the perfect hair product can be difficult, especially when there are so many options all claiming nearly the same results. That is why start by looking for the ingredients. Some brands may use CBD oil as a byproduct, but they also use harmful chemicals that may negate the effects of CBD oil. Carefully read the ingredients and determine whether they are appropriate for your hair and scalp type.
Though CBD oil has almost no side effects when used properly, it can cause harm if used excessively. As a result, look for the percentage that was used in it. Check the percentage of hemp seed oil as well. CBD oil is derived from cannabis, so it is natural that it contains little or no THC. Therefore, always check that as well to see if it is suitable for you.
Of course, CBD is the most important component of all shampoos because it contains nutrients and fatty acids that promote hair growth, strength, and shine, but because needs differ from person to person, making an informed decision before feeding anything to your scalp is critical.
Benefits of CBD oil for Hair
1. Rich with amino acids
CBD oil has all the fatty and amino acids present in keratin, which makes hair strong and shinier. It not only boosts hair growth but also controls hair loss, making hair fuller. 
2. Moisture scalp
It helps in keeping dandruff at bay, controlling the itchiness, and making the scalp healthy. It nourishes the hair from roots to tips and restores its natural shine.
3. Strong Locks
Damaged hair needs more and more proteins, they are the building blocks for hair. CBD oil is full of proteins and aids its growth faster.
4. Controls natural oil
Oily scalps are usually prone to accumulate excess natural oil on the scalp, causing blockage of the pores and resulting in hair fall. CBD oil controls such oil excretion and leaves a pleasant fragrance.
5. For all hair types
CBD oil is a universal remedy for hair damage and is suitable for all hair and scalp types. Its natural chemical binding produces effective results for everyone while posing almost no risk of side effects.