Cannabidiol(CBD) is a chemical compound that is found in the Cannabis plant and has many positive health effects on the human body. It can relax your body after a long day or relief your ache or pain. Bath-bombs or bath salts are also CBD-infused products that are used during bathing to relax your body and to provide a good bathing experience. Here are some of the best bath salts to buy now.
1. Foria Wellness Bath Salts with CBD & Lavender
Inspired by the relaxing ritual of bathing, Foria's multi-botanical Wellness bath soak is formulated to renew you in body & mind. The mineral-rich Epsom salts are infused with the tension-relieving benefits of organically-grown kava, lavender, calendula, ginger, and hemp. This soothing blend delivers a symphony of botanicals to nourish skin, encourage circulation, relieve discomfort, and leave you feeling revitalized.
Buy now on Hemp Botanics for only £44.00  £39.60.
2. Foria Intimacy Bath Salts with CBD & Cacao
Inspired by the sensual ritual of bathing, Foria's multi-botanical Intimacy bath soak is formulated to seduce the body and mind. The mineral-rich Epsom and Himalayan salt base is enhanced with infusions of organically-grown kava, cacao, rose, and hemp. This blend delivers a symphony of botanicals to awaken your senses for intimate moments.
Buy now on Hemp Botanics for only £44.00  £39.60.
3. CBD Bath Salt Himalayan 12OZ 100MG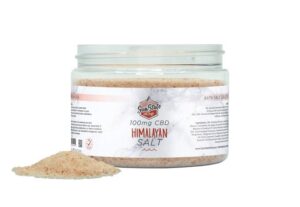 Mineral baths are beneficial for a variety of reasons, and are an effective way to relieve stress from the body. Dipping your body in warm water mixed with this CBD Himalayan Salt may help to reduce fatigue and discomfort from a hard day's work. It can also aid with skin care, helping to soothe skin and keep you feeling restored. Pour yourself a bath tonight, and experience the luxurious effects of Sun State Hemp's CBD Himalayan Salt!
Buy this now on SunstateHemp for only $19.99.
4. CBD Bath Salt EPSOM 12OZ 100MG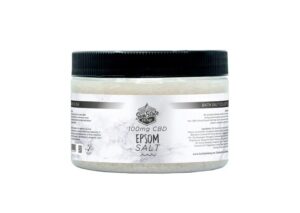 Epsom Salt has been used for hundreds of years to for a wide variety of soothing applications. In more recent years it has been used to help relieve aches, stress, and other discomforts. This is why Sun State Hemp has combined premium Epsom salts with 100mgs of CBD, for even more beneficial properties. After a long day at work, let this CBD Epsom Salt soak up all the stress, and leave you feeling relaxed and restored!
Buy now on SunstateHemp for only $19.99.
5. Mexican Moon Bath Salts
This beautiful bath blend has a medley of flowers lovingly picked in the Zapote valley of Oaxaca by an indigenous family in the region of Teotitián. The Rosita de Cacao or Cacao Rose is an Aztec and Zapotec staple that lasts decades after being picked. Associated with everlasting life Rosita de Cacao is harvested for its medicinal properties known to treat anything from Anxiety, menstruation, and libido to fever and coughs. Use this calming blend for the skin and spirit and connect with the healing energy of the Rosita de Cacao.
Buy now on The Alchemist's Kitchen for only $8.00.
6. Magickal Black Bath Sea Salts
This is a truly magical blend of essential oils, activated charcoal, epsom, and sea salts blended in small batches.
Buy now on The Alchemist's Kitchen for only $23.00.
7. Vertly CBD Bath Salts – 50 mg
Vertly Bath Salts is the dose of wellness you deserve. This clean skincare product features a unique combination of natural healing salts, botanical infusions (think marjoram, yarrow and rosemary) and cannabinoids formulated to calm the mind and body.
Buy now on The Alchemist's Store.
8. Sea of Love Soaking Salts
These botanical soaking salts were created in honor of the healing power of the earth's salt waters. Adding soaking salts to a bath is a cleansing and purifying ritual that renews your entire being. Salts and plants infused into your bath water aid in drawing out that which is not needed within your body and your spirit, while soothing sore muscles and joints.
Buy now on The Alchemist's Store.
9. Wood Fired Tub Activated Charcoal Soaking Salts
This is a purifying blend of mineral salts for soaking and creating a sacred bathing experience. The salts are blended with the addition of activated charcoal, black lava salt, locally wildcrafted pinyon, and alder-smoked sea salt. From our good friends in New Mexico at Plantfolk. Inspired by the healing waters of an outdoor wood fired cedar tub.
Buy now on The Alchemist's Store.
10. CBD Infused Bath Salts
This delightful rose-scented CBD Bath Salt has been designed to soften the skin, stimulate circulation, and relieve tension across the body, all from the comfort of your own bath. To ensure that your bath time is as pampering as possible, this gentle blend includes Epsom salt, a natural healer.
Buy now on VitalityCBD for £12.99.
11. Diamond CBD Bath Salt
This Diamond CBD Bath Salts in Relaxation is a lavish and opulent combination of all-natural industrial hemp cannabidiol (CBD) and natural essential oils, designed to make any bath relaxing and stress-free. It's rich in phytocannabinoids and delivers a full-body experience with all of the benefits of CBD oil in bath salts. Diamond CBD Relaxation CBD Salts give you pure hemp CBD relief from the daily stresses of life. So soak up the soothing scents and give yourself the energy you need to tackle another day.
Buy now on DiamondCBD for only $14.99.
12. Rest & Relax CBD Bath Salts
This CBD bath salt is packed with natural actives for total body relief. A blend of mineral-rich salts, botanicals, and essential aromatherapy melts away stress for ultimate relaxation. These bath salts are made with high-quality CBD and another natural, plant-based ingredients offered at accessible prices for daily relief.
Buy now on SocialCBD for $39.99 $19.99.
13. Active CBD Oil
Give your sore muscles the care they deserve with this Active CBD oil Bath Soak. Infused with real rose and calendula, this curated blend of essential oils, epsom salt, pink himalayan salt and 50mg of CBD is a perfect way to relax and rejuvenate your body and mind.  Unlike other bath products that are made with CBD isolate, we designed our CBD muscle soak with water-soluble CBD to fully disperse into your tub allowing you to maximize your CBD experience. Just pour the desired amount of bath salts into warm water and relax to your happy place.
Buy now on DiscoverCBD for only $14.99.
14. High CBD Formula Bath Salts
Transform your bath into a nurturing spa experience. Blooming with botanicals, this blend of arnica and calendula flowers plus Epsom and Himalayan pink salts are infused with 240mg of the finest CBD. With fragrant notes of evergreen and citrus, it's a bath experience crafted to restore balance, relax the body and soothe your soul.
Buy this on LordJones for only $ 65.00